First onions and potatoes, now year-round organic pumpkins too
WeGrowOrganic's assortment keeps expanding. This Dutch company grows and processes onions, potatoes, beets, and carrots. And since last season, pumpkins too.
"Our recently completed new building gives us room to grow, and the expanding pumpkin market offers perspective," begins Wouter Snippe." It's a great new step with which we can further expand our range. Cultivating pumpkins spreads the workload well too."
Year-round organic pumpkins
WeGrowOrganic aims to offer organic pumpkins year-round. "The Dutch season ends at the end of January. We then continue with South Africa and Egypt until the end of July, when the Dutch season starts again." The company's assortment includes several varieties. "The early varieties often have high yields but can't be stored for long. Others don't yield quite as much, but you can store them for longer. We use this for our planning," Wouter explains.
The company has purchased a complete washing line. The pumpkins are graded by quality, trimmed if necessary, polished, and dried. They are then sorted by weight and packaged. "Most go into EPS crates, but we can do just about any box and crate. We do lasering too, for which there's great demand from organic stores." These pumpkins go further afield than just the Dutch market. They are exported all over Europe, especially to Germany, the largest pumpkin market.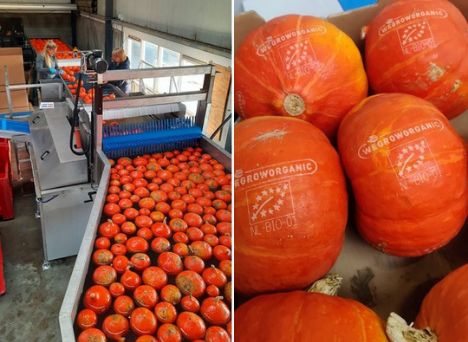 Not a great pumpkin year
This last growing season did not go very well for pumpkins. "Pumpkins need heat and sun. But we had low temperatures and a lot of rain when these were being sown. A lot of the plots didn't fare well, although the quality was fine." Most pumpkins on the market are grown organically. "They grow pretty easily without chemicals. Since these aren't a huge conventional product, there aren't many plant protection products for them on the market either," continues Wouter.
Short chains
WeGrowOrganic stores, sorts, and packages its own and fellow Dutch growers' products. Fouter and his partner Thijs Geerse have focused on a short chain approach from the very beginning. "The shorter the chain, the less profit you lose to middlemen. From cultivation to the supermarket, we control the chain. This concept is catching on too. Supermarkets are really focused on a product's origin, and short chains provide consistency. With such a short chain, there's little chance of mixing." Wouter is not ruling out expanding the range with other products in the future. "We know a lot about onions and potatoes. With the other products, we'll have to do it gradually," he concludes.
Author: Jobke den Hertog
© BioJournaal.nl