"We want to be able to supply Dutch organic onions year-round"
There's a lot of construction underway at WeGrowOrganic in the Netherlands. This company supplies products like organic onions and potatoes. It's building a new processing and storage warehouse. It will soon be able to accommodate 35,000 crates. The plan is to supply Dutch organic onions year-round.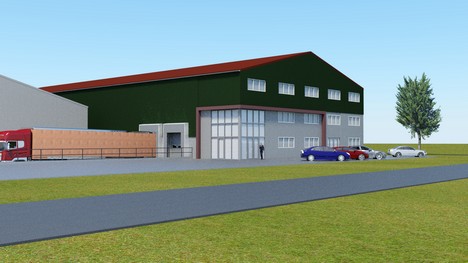 This is how the new processing and storage warehouse will look.
Condensation drying
"There's an ever-increasing demand for organic products. More growers are switching to organic cultivation. So, the supply's also increasing. There's also more demand in Europe for European products than imports," explains Wouter Snippe about the new building. They've decided to use condensation drying.
"This is a fairly new, expensive technique. It has many advantages for organic farming. We can't treat our potatoes with a sprout inhibitor. That's what's done in conventional cultivation. So the only thing you can do is cool them. However, the lower the temperature, the higher the humidity. That's not great for the onions either. "
"They're wet when they come out of the cooling system. We can dry the onions out but at the expense of their shelf life. We're linking the storage and new processing warehouse. We can, therefore, process and sort the onions in a cool, dry environment. We still have a top-quality product in June. That's thanks to the condensation dryer," says Wouter.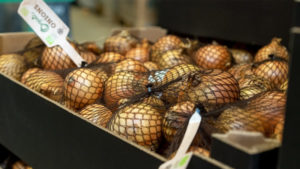 There's a gap between late May and mid-June. That's between when the last Dutch onions leave storage, and the first Dutch sets are harvested. So far, Egyptian imports have filled this gap. WeGrow Organic also works with a Spanish onion grower.
They hope to be able to supply Dutch onions all year round in the future. "The new warehouse offers added value for our product. It also provides opportunities for fellow growers to work with us." The new storage area must be ready before the onion harvest. And Wouter expects to begin using the processing plant in October.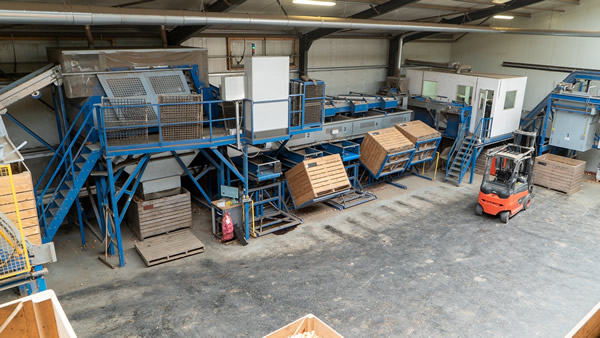 Merged companies
Wouter Snippe and Thijs Geerse founded WeGrowOrganic in 2016. They're both organic farmers as well as neighbors. "We saw our products were going through several hands before reaching the end customer. We wanted to shorten that chain. It's now four years later. And, in addition to our own product, we also store, sort, and pack fellow growers' products."
"They're in the Netherlands and Belgium. That spreads the risk. We have direct lines to our clients. So, we can coordinate better. We can better manage quality. We're more flexible too. We know exactly what each client wants." This season, Thijs and Wouter also merged their farms. Thijs will mainly focus on cultivation. Wouter will take care of product processing.
Brexit causing very little trouble
The condensation dryer was a considerable investment and, thus, must prove profitable. So, Wouter and Thijs took a good look at market demand. They've started discussions with their European clients. They send the products from the Netherlands all over Europe. Most of their clients are in the United Kingdom, Germany, and Austria. Wouter says Brexit won't affect their company much.
"We're used to exporting to Norway. We, therefore, know how to arrange the paperwork. But we do have to be aware that we can't receive the product back because the standards don't match. Transport was a bit tricky around New Year's. That was, however, because of COVID-19. It had nothing to do with the Brexit," says Wouter.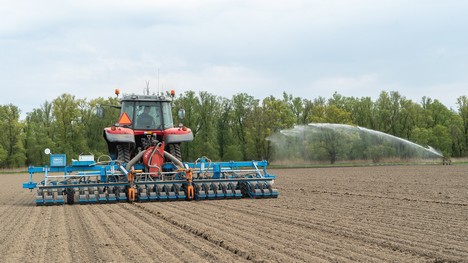 Sowing.
Good season
Organic farming had its share of challenges this season. But the growers managed to achieve average yields. "The quality was good. There was some weathering. That's because we had a wet period during the harvest. Storage went well, and we're also satisfied with the sales season. The supermarkets had high turnovers, and overseas harvests were lower. Export from the Netherlands started early, and prices were just right."
Less free trade
The organic onion market has been good for several years. "We starting farming organically in 2001. Then the share wasn't as big as it is now. More and more growers are choosing to convert. That's also because conventional onions didn't have a great year. Sales are the biggest change for growers who make the switch. Salespeople aren't knocking at your door. There's less free trade in organic farming."
"It's all about having a good network. Sometimes we know where the product's going two months before it leaves," continues Wouter. "Some growers have to get used to coordinating things. Switching growers need to tweak their machinery too. There are many organic farmers in [the Dutch province of] Flevoland. So, there's a lot of cooperation. Mildew is particularly challenging when cultivating organic onions."
However, more and more resistant varieties are available. "Besides that, fusarium is a problem too. Although that differs per soil type and arable land. In clay soil, the crop doesn't grow as fast. It's, therefore, less sensitive to diseases. Slower growth has another advantage. The products store better."
Since last year, WeGrowOrganic has been replacing its second-year onion sets. That's with greenhouse onion sets. "There's a lot of disease pressure on early onion sets. They get head rot and fusarium. You carry those diseases along during the season. In a greenhouse, the onion sets grow in a protected environment. So, you have less trouble with diseases," concludes Wouter.
This interview is in Primeur's Onion Special.